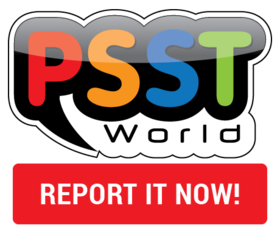 Grande Yellowhead Public School Division partners with PSSTWorld to offer an online school safety-reporting program into division schools. The PSSTWorld program is based on a proven 5-year pilot project designed by international safety expert, Theresa Campbell, in Surrey, BC. The program encourages student participation as a core factor in the improvement of school safety and culture.
Students, staff or community members, are invited to report their safety concerns — whether seen, heard or experienced—directly and anonymously, to school division safety staff. These include concerns in regards to bullying, cyberbullying, abuse, sex/drug/weapons/gang crime, suicidal thoughts, vandalism, and even the potential for a school attack, which are then sent directly to division safety officials.
Report your concern here:
Please note: The site is monitored during school hours thus emergency incidents should be forwarded to the appropriate emergency personnel such as the 911 call centre.
Vital grassroots safety information is usually known first by students. PSSTWorld gives districts a better chance of getting this information into the hands of its safety professionals for appropriate investigation/action /delegation. The intent behind the program is for the improved potential for early conflict prevention, intervention, and efficient resolution. Bystander and victimized students are empowered to act. Student offenders are deterred. Students, staff, administration, and parents now have a safe (anonymous if necessary), organized and popularized mode of action for reporting school incidents and concerns.
Please continue to speak to your children about the importance of respecting themselves and others. It is important to explain the key difference between 'telling' and 'tattling' and the purpose of this online tool is to get themselves, or their friends, OUT of trouble and not IN to trouble. PSSTWorld is an important online, and anonymous, resource for reporting safety concerns so that together, we can minimize all forms of bullying, abuse, and violence in our schools.
If you have any questions or concerns about this program, please do not hesitate to contact me.
Sincerely,
Carolyn Lewis, Superintendent of Schools