Transportation Services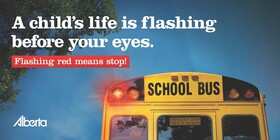 Transportation Services currently operates 53 school bus routes across eight different communities across the division. We transport over 2,500 students over 7,000 km each day.
GYPSD also provides cooperative busing programs with neighboring school divisions. The purpose is to provide the best transportation opportunities possible for our students.
The transportation department is located at the Education Services Centre in Edson, Alberta. Our Edson location also includes a full-service mechanic shop that inspects, repairs and maintains our division's fleet of vehicles. Driver training is also provided by certified instructors to over 100 employees in the department.
The transportation department is open from 7:00 a.m. to 5:00 p.m. daily and closed on weekends and holidays.
Contact: (780) 723-4471 
Fax:       (780) 723-2414
Email at transportation@gypsd.ca
Transportation Services Personnel
Edna Regan - Manager, Transportation Services
Amanda Beaverbone 
Katelynn Kendall