About Our Transportation Department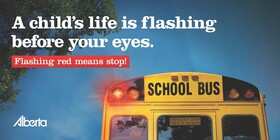 GYPSD is the third largest geographical school division in Alberta - stretching from Evansburg in the east, along the Yellowhead HWY, to Jasper, and north to Grande Cache.
Transportation Services currently operates 49 school bus routes within five different zones and communities within Yellowhead County. We transport over 2200 students over 8,000 km each day.
Transportation Services is operated from the Education Services Centre in Edson, Alberta.
Our Edson location also includes a full-service mechanic shop that inspects, repairs, and maintains GYPSD's fleet of vehicles. Driver training is also provided through our Driving School by certified instructors to over 40 employees in the department.
Transportation Services is open from 7:00 a.m. to 5:00 p.m. daily and is closed on weekends and holidays.  If you have questions, email Transportation Services at transportation@gypsd.ca
Contact Us
Christine Van Neck, Director of Transportation Services
(780 723-4471 
Emma Graham, Transportation Department Officer
(780) 723-4471 ext. 107
Keisha Johnson, Transportation Department Officer
(780) 723-4471 ext. 107