Transportation Services
School Bus Safety Week October 17-21, 2022
Held during the third full week of October each year, National School Bus Safety Week is an active and evolving public education program and an excellent way for parents, students, teachers, motorists, school bus operators, school administrators, and other interested parties - to join forces and address the importance of school bus safety. Designed to promote school bus safety, school districts throughout the country observe School Bus Safety Week. The Alberta Student Transportation Advisory Council is sponsoring a provincial poster contest for students in Grades K to 6. Visit their website to learn more! https://astac.ca/safety-week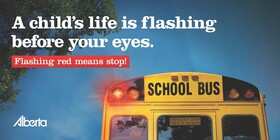 Designated Edson Transportation Boundary Update - Effective September 2022
GYPSD is the third largest geographical school division in Alberta - stretching from Evansburg in the east, along the Yellowhead HWY, to Jasper, and north to Grande Cache.
Transportation Services currently operates 50 school bus routes across eight different communities across the division. We transport almost 1,900 students over 8,000 km each day.
GYPSD has cooperative busing agreements with neighbouring school divisions. The purpose is to provide the best transportation service possible for eligible students.
Transportation Services is operated from the Education Services Centre in Edson, Alberta. Our Edson location also includes a full-service mechanic shop that inspects, repairs and maintains our division's fleet of vehicles. Driver training is also provided by certified instructors to over 40 employees in the department.
Transportation Services is open from 7:00 a.m. to 5:00 p.m. daily and is closed on weekends and holidays.  If you have questions, email Transportation Services at transportation@gypsd.ca
Transportation Personnel
Christine Van Neck, Director of Transportation Services
(780 723-4471 
Katelynn Kendall, Assistant Manager of Transportation Services
(780) 723-4471 ext. 131
Keisha Johnson, Transportation Department Officer
(780) 723-4471 ext. 131