Our Board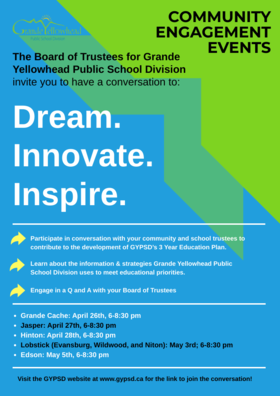 Community Engagement Events, 2022
The Board of Trustees for GYPSD hosted virtual community engagement events in the five zones that make up the jurisdiction on April 26, 27, 28, May 3 and 5, 2022. 

In addition to the community engagement zone events, we are asking for your input in this Division-wide survey. The information you provide on this survey will help to inform the Division's 3 Year Education Plan (3YEP).
We appreciate you taking the time to complete this short, confidential survey. 
Division Feedback Survey
We hope you will join the conversation! 
School Boards exist for children. Trustees must at all times be an advocate for children and their learning needs in addressing all matters related to their mandate. In keeping with the theory that government is most effective when it is placed closest to the people being governed, school board trustees are elected during local municipal elections every four years; the next election will be held in October of 2025.
The Board of Trustees provides leadership and guidance to the division by defining the vision, mission and its operational expectations on behalf of their stakeholders and communities. Trustees monitor the division's actual performance against those expectations during Public Board Meetings held at the Education Services Centre in Edson throughout the school year. Together, successful trusteeship also means building strong partnerships with parents and other affected stakeholders in ensuring that all children are provided the best educational opportunities to become the future citizens that we all envision. Trustees also connect with other elected officials such as MLAs and Municipal/ Town/ County Councilors to discuss the needs of the school division in their respected communities.We encourage you to contact your local School Board Trustee to learn more about the role of the Trustee and public education in your community. To learn more about Alberta School Boards, we invite you to please visit http://www.asba.ab.ca.  Our Board is a member of the Alberta School Boards Association as well as the Public School Boards' Association of Alberta. Learn more about the PSBAA at Public School Boards of Alberta.