Facility Services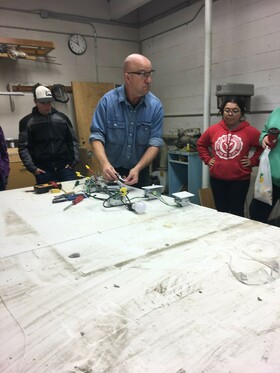 The operations and maintenance of school infrastructure are recognized by the Government of Alberta as critical to high achievement in teaching and learning. Specified funding for operation and maintenance are therefore provided to Alberta's school divisions to meet the operations and maintenance needs of school division buildings and property. These funds cannot be directed toward instructional or administrative equipment or personnel. Grande Yellowhead maintains this funding at a divisional level and is responsible for all school facility infrastructure including classrooms, gymnasiums, playfields, and play structures across the Division. Messages can be left before or after office hours at (780)723-4471.
Plant Operation and Maintenance (PO&M) provides for the repair, replacement, and renewal of failed infrastructure elements including associated equipment and materials used in the day-to-day, routine activities. A general rule is that PO&M applies to the actual building infrastructure. In other words, if you turned the building upside down, all those elements that are not attached to the building would not be considered part of the PO&M scope.

School facility operation services include the day-to-day running of the school facilities. These services include but are not limited to: energy management; heating, ventilation, and air conditioning (HVAC); cleaning; inspections; opening and closing schools; boiler operation; responding to daily emergencies; mowing grass; generating work requests to maintenance. In general, Facility Services is responsible for operating the physical plant to provide optimal learning and teaching conditions.

There are three main maintenance functions:
Regular maintenance -  generally repairing or replacing building components, equipment, or operating systems
Preventive maintenance -  proactive maintenance aimed at preventing unexpected equipment or building components, equipment, or operating component failure; performed on regular intervals throughout the school year, preventive maintenance is planned and not reactive.
Emergency Maintenance -  maintenance staff respond to unexpected equipment breakdowns, building component failures, accidental or deliberate (vandalism) damage.
Facility Services requires the expertise of all the traditional trades as well as building operations and custodial services.
Facility Services Personnel
Brian Orge
Director of Facilities
780-723-4471 ext 125
Jackson Kendrick
Manager of Facilities and OHS
780-723-4471
Yvonne Furegati
Secretary - Facility Services
780-723-4471, Ext. 118