Go back
GNS: Miss Teen Canada from PCHS
Posted on: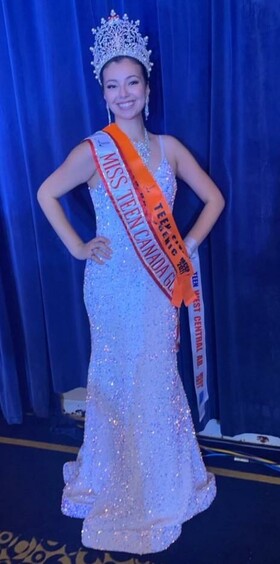 Congratulations to Latisha Tallcree, our very own Grade 12 student from Parkland Composite High School in Edson, who won the title of Miss Teen Canada on September 13, 2021! This was her very first pageant and her interest sparked when a former queen who won the title of Miss Teen Canadian Globe in 2020, offered her the chance to participate in the MCGP (Miss Canada Globe Productions) pageant. When asked what her favorite subject in high school is, Latisha highlighted the importance of English Language Arts. "I've always enjoyed things that challenged my thinking. That is what this subject does for me - you have to use the knowledge of your vocabulary abilities and how much you can think outside of the box."
Her favorite hobbies including gaming, baking for her family and friends, going for walks and travelling. Her current favorite song is Je Te Laisserai Des Mots by Patrick Wilson.
After graduation, Latisha's plan to work towards becoming a nurse practitioner while balancing her responsibilities as a national pageant winner.
Congratulations Latisha and we all wish you the very best as you move forward in your career goals!