Go back
GNS: World Teachers' Day
Posted on: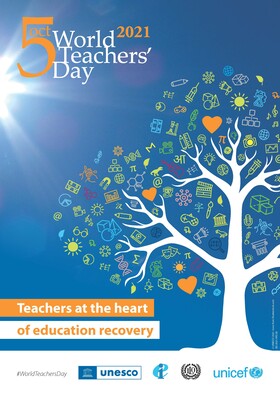 World Teachers' Day is held annually on October 5th to celebrate all teachers around the globe and the 2021 theme is "Teachers at the heart of education recovery", and are they ever!
Since 2020, the continuing COVID-19 pandemic has led to many educational disruptions and school closures which has confirmed the crucial role teachers have in maintaining learning continuity in a variety of roles, and under multiple environments. Despite these challenges, our teachers have continued to show up and step up, role modelling values of courage, flexibility, determination, and resilience while leading students through uncertain times.
We are so proud of our teachers who tirelessly adapt on the fly to ensure the learning needs of their students are being met. They have provided online teaching and learning; they have prepared take-home packages for students living in remote areas that lack the connectivity and technologies needed to pursue online learning; they have adapted their practices as well as the formats, means, and assessment of the curriculum to meet the diversified needs of their students, including their health and well-being; and they have used alternate ways to preserve social interaction among students, fellow teachers and their school communities, often checking in on students and their families via social media and other messaging formats.
Please join us in sincerely thanking these dedicated and hard-working professionals, and whether they are supporting in-class instruction, remote learning or a combination of both, thank you for doing what you do best - supporting our students!