Go back
GNS: It's JR & Kinder Registration Time!
Posted on: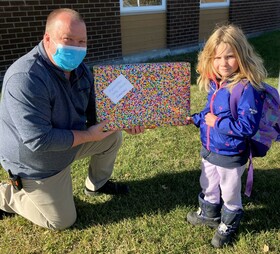 Online registration is now open for your little one to begin their new learning journey into our junior kindergarten or kindergarten programs for September 2022!GYPSD is proud to offer exemplary early learning programs at all our elementary schools. Our meaningful play-based child-centered approach for our Junior Kindergarten and full-day Kindergarten programs promote social and emotional learning, empathy, language, communication, physical activity, literacy, numeracy, inquiry, and exploration - allowing for individual growth and development of a positive self-image. Our early learners become welcomed and loved members of the GYPSD school community and have all of the supports and services available to students in our elementary schools:
a certified teacher to support programming

vital opportunities to interact/partner with older students

large gymnasiums and a variety of equipment to keep physically active

up-to-date libraries to grow a love of reading

special presentations, speakers, and other celebrations enjoyed by the elementary school community

early intervention supports and resources such as speech-language pathologists, occupational therapists, and our division psychologist
Contact the GYPSD elementary closest to you for more information or register today! 
Be sure to register for junior kindergarten or kindergarten before April 30, 2022, for a chance to win a Chromebook for your family. All registrations confirmed prior to April 30th will be entered into a draw for a Chromebook. Winners will be announced by May 30, 2022, and Chromebooks will be delivered to the winners after September 30.
Jr and Kinder Campaign Winners for 2021