Go back
GNS: New Aviation Program at GTHS
Posted on: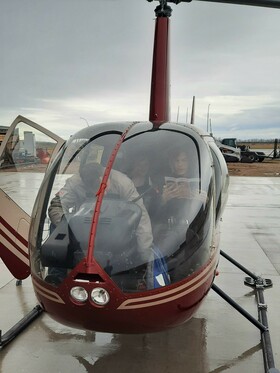 Grand Trunk High School (GTHS) is pleased to offer a new exciting program for their students, Aviation 15. Students are exploring the knowledge and skills associated with becoming a pilot in Canada, as well as demonstrating their learning in simulated flight experiences.
Students in Mr. McLennan's Aviation 15 class went on a field trip to Villeneuve Airport. They were given presentations from several industry leaders, including Synergy Aviation, Centennial Flight School, Pilots, Aircraft Maintenance Engineers, and an Air Traffic Controller.
Students were even lucky enough to be able to sit in several different types of aircraft at the hangar. It was very exciting to learn about different careers that are part of the Aviation industry. Students were happy to see the practical applications of many things that they have learned in the classroom, as well as get the opportunity to ask industry leaders and experts about their careers.
The Aviation 15 class was also very appreciative to have Lac Ste. Anne-Parkland MLA Shane Getson, who holds a private pilot's license, as their tour guide at the airport and for sharing his own knowledge of the field of Aviation.
GNS: New Aviation Program at GTHS