Go back
GNS: Welcome Back School Events
Posted on: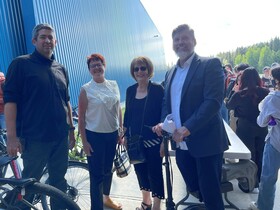 Superintendent Lewis finished off a very successful first week of school with a visit to Parkland Composite High School in Edson for their annual Welcome Back BBQ lunch. PCHS staff were busy flipping burgers and hot dogs to feed over 600 hungry students. Edson Trustee Fiona Fowler also popped in to say hi and enjoy a tasty lunch.
Superintendent Lewis has been busy visiting schools across the Division all week to welcome students and staff back to another great year of learning. She will be joined by the Board of Trustees later this month when they do their official annual school tours.
GYPSD schools throughout the Division are hosting various welcome back events to recognize the launch of the 2022/23 school year. Families are invited to check out their schools' social media and websites to join in the fun.
GNS: Welcome Back