Go back
GNS: Honouring Those Who Serve
Posted on: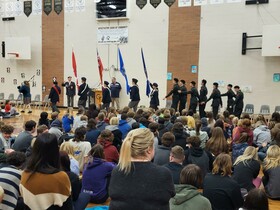 November 11th is recognized annually as Remembrance Day, and GYPSD's schools saluted our service men and women with special assemblies, lessons, and presentations to recognize those who have sacrificed worldwide in various armed conflicts. Many wore artificial poppies on their clothes the weeks before this day as poppies symbolize the memory of those who have died. GYPSD Trustees were also present at community Legion services on the 11th.
On November 8th, Grand Trunk High School in Evansburg held a Remembrance Day Service which included the public, parents, grandparents and all members of Evansview School. GTHS's teacher, Brett Watt, organized and ran the event with the Color Flag Party from the Legion, (Evansburg Branch of the Royal Canadian Legion, Branch 196), Pastor Brookhart from Entwistle Community Church, the Evansburg Station of the Yellowhead County Fire Department, the Evansburg Detachment of the Royal Canadian Mounted Police, and their local Cadets (also GTHS students - the 3070 Lord Strathcona's Horse Army Cadet Corps from Evansburg).
Students from both Evansview Elementary and GTHS laid wreaths in honor of those who served and gave their lives in World War One, World War Two, the Korean War, those who served and gave their lives in Canada's many peacekeeping missions worldwide, the veterans of the Lobstick area who served our country and to those who gave their lives, and to lay a wreath in honor of Indigenous veterans who served and gave their lives in the service of our country (six wreaths in total).
GNS: Honouring Those Who Serve