Go back
GNS: Buddy's Grande Yellow Bus Adventure
Posted on: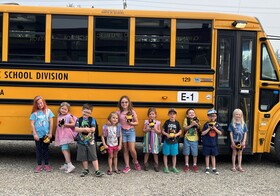 Buddy's Grande Yellow Bus Adventure launched in August much to the excitement of over 30 new kindergarten student riders. The First Riders program was recently created to help young learners become safe and confident bus riders as well as learn safety rules both in and out of the bus. Some of the program's objectives include:
general view of the safety features on a school bus;
the knowledge of how to safely walk to the bus stop and wait for the bus at the bus
stop;
the self-assurance to board the bus and get off the bus;
an understanding of the importance of following the safety rules while riding on the
bus;
the confidence to ride on a school bus in a safe and secure environment, and
to know how to display proper behavior in and around the bus.
Along with a 30-minute presentation by the Director of Transportation Christine Van Neck, students were invited to go on a short ride on the big yellow bus along with their parents. Not only did the participants receive a stuffed Buddy to take home, they also met some new friends. Presentations were held in Edson and Hinton.
Director Van Neck also plans to visit all the kinder classes across the Division over the next couple of months with an in-class only introduction to the program.
The bus ride to and from school is an important part of a child's school day. Even children who do not use the bus to get to or from school will probably ride a school bus at some point throughout the school year. Whether they are on a ride to school or a field trip, all children should be familiar with the safety rules relating to school buses.


Buddy's Grande Yellow Bus Adventure!