Go back
GNS: Division Health and Wellness Committee
Posted on: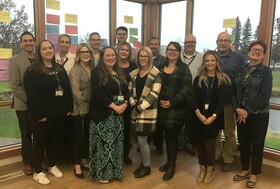 GYPSD's newest committee has convened for its first meeting. Top of the agenda: what are the indicators of a healthy system?
Representatives on the Health and Wellness Committee include staff from schools, central office, and a variety of departments. Committee co-chairs include GYPSD's Director of HR, Meghan Auriat, and Parkland Composite High School teacher, Sean Sommerfeld. Additionally, Trustee Jocelyn Pettitt (Edson) sits on the committee on behalf of the Board of Trustees.
The committee is deepening the work begun by the Board and the Division last year in response to awareness of the impacts of the pandemic on students' and staff mental health. As part of a governance review, the Board added the System Health and Wellness Priority in January 2023, in conjunction with a policy review that included the addition of two important updates to the Board's policy on Health and Wellness which identified the right for staff to disconnect from work emails in their evenings and weekends, and the right for staff to not tolerate harassment or bullying while performing their work duties. As part of an awareness campaign, representatives from Human Resources visited every GYPSD school to ensure staff knew of the extensive supports available to them, and how to access them through the Division's website.
During the Board's community engagement events, attendees received information on the Division's complete Pyramid of Supports for students - including the addition of Wellness Navigators within GYPSD's five high schools. In May, GYPSD began a partnership with EdCan through the Well at Work initiative and invited all GYPSD principals to consider how they are encouraging and supporting a healthy working and learning environment. In its first working meeting, the committee engaged in a consensus-building activity to explore indicators of a healthy system and develop themes to look at more closely. Some of the initial themes, or categories, included collaborative culture, authentic communications, clarity of purpose and healthy boundaries, resiliency and flexibility, and ongoing feedback. The committee will meet four times in total during the 2023/24 school year.