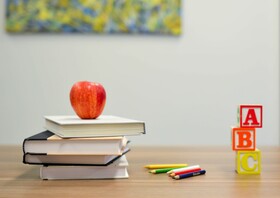 Congratulations to teacher Beth Johnson of Grand Trunk High School (GTHS) in Evansburg - this year's finalist as the GYPSD nominee for the Alberta School Boards Association (ASBA), Edwin Parr First Year Teacher Award.
Ms. Johnson is currently teaching high school Math, Chemistry, junior high Health and Wellness and electives, and was excited to be offered her first teaching position at GTHS as she grew up in the neighbouring community of Whitecourt. As part of the selection process, Ms. Johnson presented to the Board of Trustees at the Public Board Meeting on March 10th sharing one of her most successful lessons, her teaching philosophy, her greatest success in teaching since joining GYPSD, and how she has grown as an educator.
Six Edwin Parr Teacher Award winners will be chosen from across Alberta including two from Zone 2/3 - where GYPSD is located. The provincial ASBA Edwin Parr Teacher Awards will be presented to the winners at the ASBA Fall General Meeting, November 14-16, 2021. ASBA established the Edwin Parr Teacher Award in 1964 to honour Edwin Parr, a respected and loved teacher from the Athabasca area, who had instituted an "Annual Teacher Award" in his school system. All school boards may nominate a first-year teacher along with supporting evidence to demonstrate how the nominee meets the criteria for the award. One nominee from each zone will be selected by the ASBA Award Selection Committee. Congratulations Beth!