Go back
EMV Students Inspired to be Agents of Change
Posted on: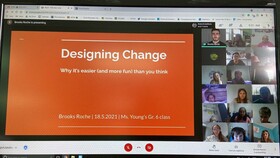 Grade 6 FRIM teacher at École Mountain View School, Hunter Young, is
empowering her students to be leaders and advocates for change. All
year, Ms. Young has been telling her students "no matter what our age,
gender, or ethnicity, we all have the power to lead and make a change in
our world!" As part of her daily virtual guest speaker series, Ms. Young reached out to
Brooks Roche, a long-time friend and long-time advocate for Type 1
Diabetes - a passion that began when Brooks was in Grade 5!
Ms. Young's idea to explore decision making/fostering change comes
directly from the Grade 6 Social Studies Program of Studies:
Analyze how individuals, groups and associations within a community
impact decision-making of local and provincial governments by exploring
and reflecting upon the following questions and issues:
How can individuals, groups and associations within a community
participate in the decision-making process regarding current events or
issues (i.e., lobbying, petitioning, organizing and attending local meetings
and rallies, contacting elected representatives)?
The students found the discussion with Brooks to be uplifting. Grade 6
student Kohen wrote "Brooks inspired me to make a difference. It made me
feel like anyone can a difference and change the world."