Go back
GNS: 2023 Summer PD
Posted on: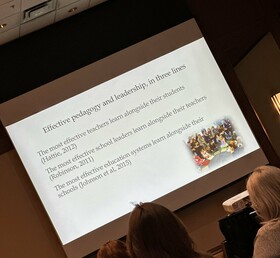 Valuable professional learning opportunities continue all year. This August, Superintendent Lewis was joined by a central office leaders at the first province-wide College of Alberta School Superintendents
(CASS) and Alberta School of Business Officials (ASBOA) joint Summer Learning Conference held in Red Deer, Alberta.

The CASS/ASBOA Summer Learning Conference provided deep learning experiences developed to deepen and apply system leaders' professional practice standards with opportunities to examine Alberta context through a community of inquiry, research-based approach. Learning modules focus on personal capacity leading to the valuable role system leaders play in supporting quality school leadership and teaching to create optimum learning for all students in Alberta.

CASS modules included Building Effective Relationships; Visionary Leadership; Leading Learning; Ensuring First Nations, Métis and Inuit Education for All Students; Supporting Effective Governance and
Introduction to Executive Coaching. In addition, ASBOA members included a module on Ethical Leadership in Education.

It was a great opportunity for participants to get a head start on learning for a new school year and re-connect!