Go back
GNS: A Feast of Learning
Posted on: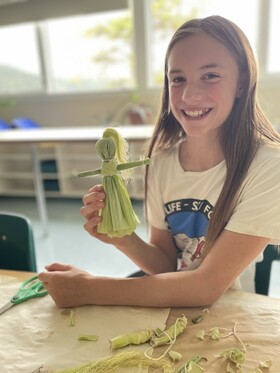 Grade 6 French Immersion students at École Jasper Elementary celebrated the beginning of the school year with an Épluchette de blé d'Inde, or "corn roast". A corn roast is a traditional Quebec and Acadian celebration.
After enjoying their treats, students then dried the corn husks to make corn husk dolls. The history of the corn husk doll can be traced back to the Iroquois and Oneida tribes' religious practice of making doll figures from the dried leaves or "husk" of a corn cob. Students heard different versions of the corn
husk doll story explaining why it has no face. Corn husk dolls do not have faces, and there are a number of traditional explanations for this. One legend is that the Spirit of Corn, one of the Three Sisters, made a doll out of her husks to entertain children. The doll had a beautiful face, and began to spend less
time with children and more time contemplating her own loveliness. As a result of her vanity, the doll's face was taken away by the Great Creator as a reminder that it's more important to think of ways to help other people than it is to worry about how we look or how people see us.
This satisfying learning project for the students connects to the Grade 6 Social Studies Program of Studies and the Grade 6 French Language Arts curriculum.