Go back
GNS: Championing Inclusion and Diversity
Posted on: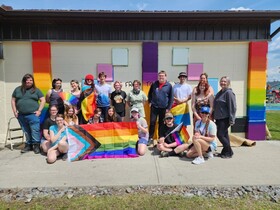 On June 26th, Parkland's Gay-Straight-Alliance (GSA) committee in Edson hosted the communities first ever PRIDE celebration with the support of the Town of Edson and various community partners. GSA students named the event after their motto, 'BE FREE to BE YOU' in hopes of inspiring others to advocate for themselves and promote a safe and caring community. Parkland students and community members painted the Kin Shack building with the colors of the Pride Progress flag, marking a significant milestone in Edson history to promote equal rights for all people, regardless of sexuality, gender identity or cultural background. Board Policy 21 - SEXUAL ORIENTATION, GENDER IDENTITY AND GENDER EXPRESSION declares the Division's support of the diversity within our school communities.
The purpose of June Pride Month is to celebrate 2SLGBTQQIA+ communities and the progress that has been made and to promote human rights and inclusion through research, education, and awareness. Students welcomed community members to participate in the painting of the building and were supported by many community partners to make the event a success.
A big thank you to their sponsors Independent, Yellowhead Wood Products, Shoppers Drug Mart, Vibe Cycle, The Town of Edson and community partners including the Fyrefly Institute and BEST for coming out and supporting Parkland's GSA.
The GSA Committee looks forward to planning future community events to continue promoting and supporting this important cause.
GNS: Championing Inclusion and Diversity