Go back
GNS: Design and Tech Meet Creativity
Posted on: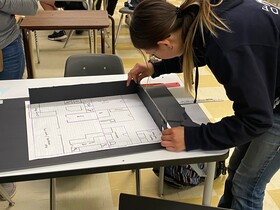 Grand Trunk High School ran their first ever high school Design Studies class this year! Students learned from teacher Mr. Watt about the Design Process, about modeling in three dimensions, and how to use Google SketchUp to 3D model anything they want on a computer.
The class was tasked with creating all of the game pieces for a copyright-free board game on the request of Mr. Liddell. Students had to learn how to use the 3D modeling software, how to connect real world dimensions and sizes of pieces with their 3D designed counterparts, and the importance of refining your models.
Students added their own creative embellishments to make the pieces more realistic or unique. Their game piece designs were 3D printed, while Mr. Watt designed and 3D printed the game board. The pieces had to be keyed into studs on the game board, and everyone's game pieces had to successfully fit onto both the original manufactured board and the 3D printed version of the board. With some refining and reprinting of a few parts, everyone's pieces worked on both boards!
Additionally, the class was tasked with developing floor plans for a house of their own creation, revising them, and then crafting foam-core scale models of their house floor plan designs. Students learned about principles of house layout and floor plan design (room size considerations, door and window dimensions and placement) and learned about how to create a livable space for a family.
GNS: Design and Tech Meet Creativity