Go back
GNS: EMVS Kids Conference Extraordinaire!
Posted on: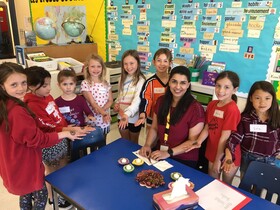 On May 5th, École Mountain View School (EMVS) in Hinton hosted their first Kids' Conference day since 2017. They welcomed over 50 presenters into their school throughout the day, as well as bussed students from around the Hinton community to participate in a variety of activities. Students were able to choose four fantastic sessions to make up their day, from arts and crafts to circuitry - there was something for everyone!
Some of the activities that were offered included:
Games: Minute to Win It, Card Games, Cooperative Games, Nerf Wars and Lego building, Board Games at the Soda Shoppe, Hinton Youth Centre

Sports: Biathlon, Disc Golf, Acro and Hoop, Pickleball, Ultimate Mantracker, Cardio Kickboxing, Biking, Taekwon Do, Kung Fu, Hockey, Dance, Archery

Arts: Crafting, Baking, Cake Decorating, Canvas Painting, Photography, Origami, Knitting, Clay Jewelry Making, Slime Making, Collages, Music, Henna, Tie-Dye, Métis Art and Culture

Self-Regulation: Meditation, Sound Baths, Yoga, Calming Creations, Problem Solving

Sciences: Circuitry, Electricity, Paper Making, Fish Talk, Science for Kids, Lip Balm Making, Coding at Learning Services, Fudge and Identifying Scat
The Kids' Conference committee at EMVS put hundreds of combined
hours into the successful event and the school is very proud of what they were able to accomplish for their students' learning and enjoyment.
They look forward to another great event next year!
GNS: EMVS Kids Conference Extraordinaire