Go back
GNS: Engaging with Heart
Posted on: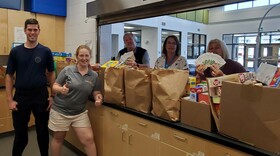 GYPSD is proud to work with our many community partners to ensure that learning is at the heart of all we do, including ensuring our many communities feel engaged and knowledgeable about the Division and its schools.
On August 28th, Board Chair and Jasper Trustee Dale Karpluk was part of the Homecoming Celebration in the Municipality of Jasper where she organized school tours at the elementary and high schools, as well as shared a historical document on the history of Jasper schools.
Local RCMP and the Rotary Club of Edson coordinated a "Cram the Cruiser" event on August 29th where the Edson community were extraordinarily generous in providing non-perishable groceries and funds to fill a police cruiser for local elementary schools in Edson. Participants got to jump in the cruiser to hit the siren much to the excitement of quite a few little contributors! Both Mary Bergeron
and Ecole Westhaven School received over $1,000 in cash/gift cards along with groceries that filled a truck bed for each school for their breakfast/snack programs.
And a final "thank you" to Constable Dean Solowan of the CN Police; as part of Operation Lifesaver Constable Solowan spoke about rail safety to over 50 members of the Division's school bus transportation department and drivers at their annual Kick-Off event on August 30th. Operation Lifesaver is a partnership initiative of the Railway Association of Canada and Transport Canada which aims to save lives by educating Canadians about the hazards around rail property and trains.