Go back
GNS: Food and Culture
Posted on: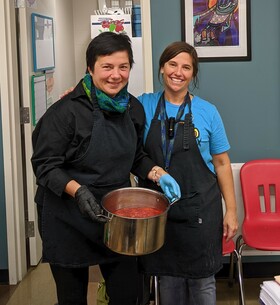 Jasper Junior/Senior High School, in collaboration with Jasper Settlement Services, is hosting monthly cooking classes from around the world.
Teacher Leanne Cross welcomed newcomer, Oxsana Polivchake, to demonstrate to her students how to prepare borsht. Borsht is a broth-based soup combined with beetroot, sugar beet, or fermented beet juice as well as regional vegetables. Borscht has been an important part of family and community life in Ukraine for centuries. It unites people of all ages, genders, and backgrounds at the table. Unfortunately, due to the ongoing war, millions of people have been displaced and valuable crops have been destroyed putting this tradition under threat. Recently, borsht was added to Unesco's list of Intangible Cultural Heritage and the Register of Good Safeguarding Practices.
Following the lesson, the leftovers were donated to Jasper's Food Recovery Program which keeps good food from becoming waste.
Next month, students will have the opportunity to explore South African cuisine.
GNS: Food and Culture