Go back
GNS: Minister's Youth Council Member from GTHS
Posted on: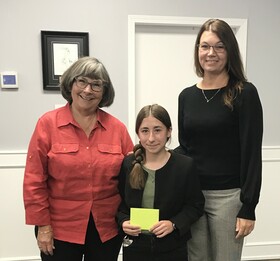 Jazlynn Mochniuk is looking forward to getting her post-secondary journey started. Currently in grade 11 at Grand Trunk High School (GTHS) in the Hamlet of Evansburg, Jazlynn is excited to pursue her dream job - working on a global platform to address the obstacles facing young women and girls who do not have access to opportunities - opportunities for education, safety, supports, and meaningful employment. As Jazlynn recently shared, she is "passionate about equity."
Jazlynn is also a member of the Superintendent's Youth Council (SYC) and worked with her school's team to complete a research project for her school. After a year of learning how to create a survey, collect and analyze data, and use that data to inform an action plan for school improvement, Jazlynn and
her SYC peers proposed that GTHS create a welcoming space at the school for students. The proposal was accepted, and this year the SYC cohort is looking to deepen their action-research skills.
Principal Heidi Zadderey was very impressed by the action proposal and was not surprised to hear that Jazlynn had been appointed to the new Minister of Education, Demetrios Nicolaides' Youth Advisory Council. "Jazlynn is an exceptional student; she is hard-working, compassionate, and cares deeply
for her peers. She is going to represent our small rural school so well; we are so proud of her."