Go back
GNS: Recognizing Rail Safety Week
Posted on: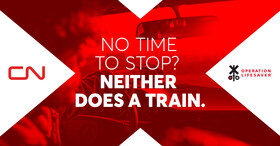 As many of our communities are situated around rail tracks, GYPSD wants to share the important message of rail safety by recognizing the 20th anniversary of Rail Safety Week (RSW) , September 18-24, 2023. #RailSafety #RSW2023 #StopTrackTragedies
Rail Safety Week occurs every September by Operation Lifesaver (OL) Canada to raise public awareness about rail safety and remind Canadians that taking risks near tracks and trains could cost them a limb, or their life. A significant part of OL's work includes community partnership initiatives, school presentations, and free resources such as Thomas the Tank storybooks for ages 3-5.
Many communities near tracks also show their support by proclaiming Rail Safety Week including the Town of Edson at the September 5, 2023, Council Meeting.
Did you know?
According to CN, more than 2,100 North Americans are killed or seriously injured each year because of unsafe behaviour around tracks and trains.
Be Rail Smart! Stop, Look, Listen and Live by following railway crossing signs and signals.
#RailSafety is a shared responsibility. Do your part and participate in the Pledge & Play contest
Any time is train time! Trains do not always run on schedule. They can run at any time, on any track, and come from any direction.
Speed Misperception: Because of their size, trains appear to be much further away and traveling much slower than their actual speed. Don't be fooled!
Trains cannot stop quickly. The average train needs at least 2 kms to come to a stop!