Go back
GNS: School Bus Safety Week
Posted on: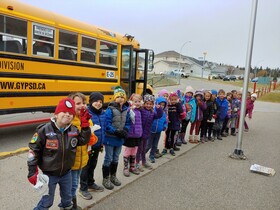 October 18-22 is School Bus Safety Week. This is an opportunity for everyone who rides a school bus, or knows someone who rides a school bus, to join forces in highlighting the importance of school bus safety.
Did you know?
Alternating flashing amber lights mean a bus is slowing down to stop. Do the same.

When approaching a school bus with red lights flashing on an undivided highway -you must stop! The fine for passing a school bus with its red lights flashing is $567 and six demerit points. Alberta Transportation states that every driver, approaching from both directions toward a school bus with overhead red signal-lights flashing, must stop and shall not proceed until the bus moves or the overhead red signal-lights have stopped flashing. Also, school buses are required by law to stop at all railway crossings. For more information on rail safety for drivers, visit Operation Lifesaver.
Travel by school bus is 16 times safer than travelling in a family car per passenger per kilometre of travel, according to a study by Transport Canada.
Each school bus made and imported into Canada has approximately 40 standard safety features built into the design and construction. These include specialized brake systems, lighting, emergency exits, escape hatches in the roof, and high padded seatbacks that cushion the impact of a crash. 
Prevention is the key to safety. With education and awareness, all children should be able to get safely to school and home again. Here are some other tips and resources to review with your children: