Go back
GNS: Superintendent's Youth Council
Posted on: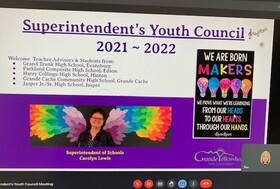 The first Superintendent's Youth Council (SYC) meeting for 2021/2022 met on October 15, affording the 24 new and returning participants opportunities to build positive relationships with peers from across the Division, lead by example in their schools, provide valuable input on education initiatives, and participate in leadership opportunities under the support of Carolyn Lewis, Superintendent of Schools. SYC members are chosen from those who demonstrate a diverse range of interests, identities and perspectives, who were passionate about and willing to share experience, knowledge, and skills, and who are interested in leadership opportunities both at the Division and school level.
Superintendent Lewis shared words of welcome, kernels of wisdom, and personal anecdotes to create a welcoming space that encouraged every student to share with the group. The meeting's theme was about having a voice and identifying each member's "Superpowers". Students were introduced to Canadian Juno winner, singer-songwriter Kellylee Evans (a jazz singer) who spoke about the theme's importance in identifying individual strengths. It was moving to hear students share their own powerful traits. The meeting concluded with an exercise where all shared the Superpower that they aspired to have - being able to fly was the most popular Superpower wish!
SYC members also virtually attended Alberta Mentoring Partnership Summit 2021: Supporting Adolescent Mental Health Through Strengthening Webs of Support on October 20. Along with informative key note speakers and presentations, there were several breakout sessions on youth mentoring, peer-to-peer learning, and a session on supports for Two-Spirit and LGBTQ+ Youth.
Help celebrate our GYPSD youth as they walk their "leadership excellence" journeys!