Go back
May 3 - School Bus Drivers' Appreciation Day!
Posted on: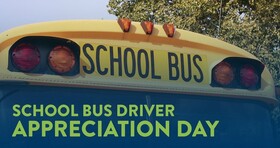 May 3rd is School Bus Driver Appreciation Day, a day in which we recognize and thank our many dedicated school bus drivers for getting our students safely to and from school each day.

School bus drivers are often the first and last smile that students see at the start and end of each school day. Caring and kind, school bus drivers are role models for the children on their routes and a voice of welcome to parents in our community. GYPSD drivers transport over 2,000 students on 50 school bus routes, traveling over 8,000 kilometers each day.

On School Bus Driver Appreciation Day – and indeed every day – Grande Yellowhead  Public School Division extends a sincere thank you to its school bus drivers for their service, support and dedication all school year!