Go back
GNS: Evansview Staff Dive into New Curriculum
Posted on: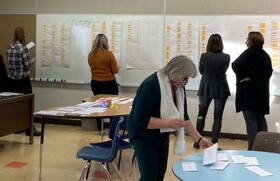 Evansview teachers started comparing and contrasting the current Language Arts curriculum with the upcoming new Language Arts Curriculum during a recent staff meeting. Both curriculums were cut into pieces, the current document was glued onto chart paper and separated by outcome statements and the new curriculum was cut into knowledge statements and put into envelopes.
Teachers then looked for similar outcomes in both curriculums and where the new outcomes are added to inform their planning process over the next 6 months. This monumental task is focusing on Language Arts as well as the incoming Math Curriculums.
Prior to beginning the analysis,  teachers were asked the question, "How do you eat an elephant?" The answer? "One bite at a time." Teachers will be focusing on this task for the remainder of the year during every staff meeting as well as the remaining staff Professional Development Days.
By looking at all of the grade levels, Evansview staff will develop a deeper understanding of the curricular objectives for the grades below and above what they currently teach. The focused conversations resulting from this work will ensure essential outcomes are established and maintained throughout all of the classrooms and grade levels in the upcoming 2022/2023 school year.