Go back
GNS: PD Focus on Land-Based Learning
Posted on: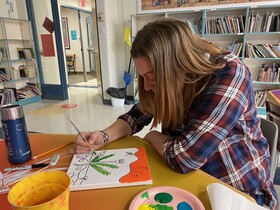 Staff at Crescent Valley Elementary School explored Land-Based Learning through an Indigenous culture lens with Jason BigCharles, an Outdoor Education teacher and Cree Culture specialist.
Jason shared the Indigenous story of the moose call as an example of a story that is told when the snow has fallen and stays on the ground. This is because Wesahkechak, a trickster, knowledgeable about the world and knowledgeable about medicines, cannot be named until there has been a snowfall. His name can only be used during wintertime with snowfall or during formal ceremony. 
How can we integrate Indigenous teaching into cross-curricular connections and concepts? With this question in mind, teachers worked together in their PLC teams to develop a lesson plan with a focus on how to call a moose: Moswa Kitohatchikewin (how to call a moose).
In addition, staff read Métis and Dandelions and participated in a guided art lesson by Métis artist Leah Dorion. Leah is an artist, author, and teacher from Prince Albert, Saskatchewan. Leah views her Métis heritage as providing her with a unique bridge for knowledge between all people. Staff took time to learn in a holistic way while learning to incorporate Land Based learning and Indigenous Ways of Knowing. They left the session with Literacy, Art and STEAM ideas for their classrooms through a Métis lens.