Go back
GNS: 2022 Edwin Parr Nominees and Finalist
Posted on: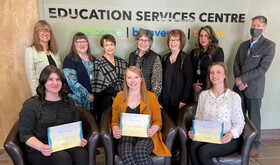 Congratulations to teacher Aimee Allers of Grande Cache Community High School - this year's finalist as GYPSD'S nominee for the Alberta School Boards Association (ASBA), Edwin Parr First Year Teacher Award.
As part of the Board's selection process, three first-year teachers in GYPSD were first nominated by their principals and then invited to present to the Board of Trustees at the Public Board Meeting on March 9th.
Ms. Allers was joined by Edson nominees, Becca Harrison from Mary Bergeron Elementary, and Ms. Samantha Bunes from Parkland Composite High School. The three nominees shared their most successful lesson, student learning challenges, greatest success in teaching since joining GYPSD, and how they each have grown as an educator this year. All three teachers provided an excellent presentation and the Board had a difficult decision in only choosing one of these passionate and dedicated educators.
Six Edwin Parr Teacher Award winners will be chosen from across Alberta including two from Zone 2/3 - where GYPSD is located. The provincial ASBA Edwin Parr Teacher Awards will be presented to the winners at the ASBA 2022 Fall General Meeting.
Congratulations!
GNS: 2022 Edwin Parr Nominees and Finalist