Go back
GNS: Leading and Supporting
Posted on: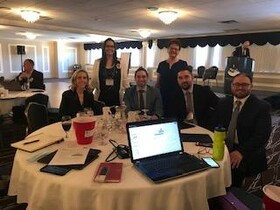 GYPSD's second priority is Teaching and Leadership Excellence and as evidence of that commitment, GYPSD's leaders recently presented at the Public School Boards' Association of Alberta (PSBAA) Professional Learning Event and at the College of Alberta School Superintendents (CASS) Spring Annual Learning Conference. 
Trustees and senior leadership staff from school boards in PSBAA received an informative presentation on the role of the Board in creating and writing policy, and the role of Superintendents to create and write administrative procedures from Board Chair Dale Karpluk (Trustee Jasper) and Superintendent of Schools Carolyn Lewis.  
Board Chair Karpluk and Superintendent Lewis explained how policy evolves and shapes the direction, priorities, and goals of the Board - informed by the community's stakeholders and educational partners.  Administrative procedures provide operational instructions for the day-to-day, ongoing work of the Division.
Superintendent Lewis, the Learning Services Team, and Grande Cache principal Arthur Cota collaborated with CBE's Superintendent of School Improvement Joanne Pitman to present to other superintendents, system leaders, academics, and Alberta Education representatives on the use of data to drive decision making.  From an entire system lens, to a division perspective, to a school, a classroom, and a student's data, GYPSD and CBE unpacked the power of actioning information to improve teaching and learning.