Go back
GNS: GYPSD Teacher Wins Outstanding First Year Teacher for Edwin Parr Award!
Posted on: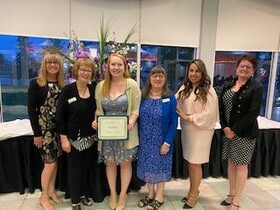 Let's all send out a big hooray to Aimee Allers, who is one of two Zone 2/3 winners for the Alberta School Boards Association (ASBA), Edwin Parr First Year Teacher Award! Aimee was selected as GYPSD's nominee for the prestigious provincial award as part of the Board's selection process, where three first-year teachers in GYPSD were first nominated by their principals, and then invited to present to the Board of Trustees at the March 9th Public Board Meeting.
Each school division in Alberta, a total of 61 boards, is invited to select a nominee for the Edwin Parr Award. Award winners are selected based on their knowledge of their students' learning styles, the utilization of a variety of evaluation methods, skills in diagnosing the knowledge of students, the ability to assist students in developing a positive attitude, and involvement in extracurricular and professional development activities.
On Friday, May 27, 2022, the six Edwin Parr Teacher Award winners were announced at the Edwin Parr Banquet. Aimee was proudly attended by Superintendent Lewis, Deputy Superintendent Kastrinos, Grande Cache Community High School Principal Jackie Mines, and GYPSD Trustees, Melodie Bobilek from Lobstick, Fiona Fowler and Jocelyn Pettitt from Edson, and Shirley Caputo from Hinton.
Well done Aimee - we are so proud of you - congratulations!
GNS: 2022 Edwin Parr Winner