Go back
GNS: CVS Participates in Moose Hide Campaign Day
Posted on: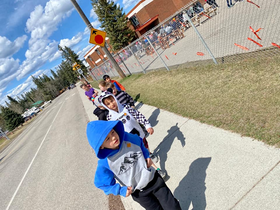 On May 12th, Crescent Valley School (CVS) in Hinton participated in the Nationwide Moose Hide Campaign Day. The campaign is an annual event aimed at ending violence against women and children. Wearing the moose hide pin shows a commitment to honour, respect, and protect the women and children in one's life, and to work with others to end violence towards women and children. Every year, Moose Hide Campaign Day brings people across Canada together to participate in ceremony, learn, and take a stand to end violence. Grade 5 teacher, Ms. Raeanne Miller, organized activities and resources for CVS students, including:
- Read alouds with author Monique Gray Smith
- Paint Night with Métis artist Leah Dorion, and Tobique First Nation artist Emma Hassencahl-Perley
- Indigenous-led online workshops
A school Walk to End Violence was organized and GYPSD Trustee Shirley Caputo joined classes. Each student and staff member received a Moose Hide Pin and information card.