Go back
GNS: Westhaven Combines Science with Environmental Stewardship
Posted on: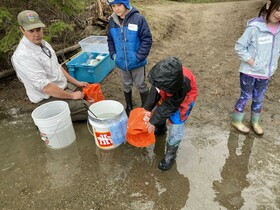 On Friday, May 27th, students from École Westhaven School in Edson participated in the release of 40 Rainbow Trout into Miller's Lake.
This release event was part of the Fish In Schools (FinS) program facilitated through the Bow Habitat Station in Alberta. Schools across Alberta are able to apply and participate in this program each year, and this year, École Westhaven Elementary was chosen as one of the participating schools. Students learn about healthy aquatic ecosystems, environmental stewardship, and fisheries stocking before releasing their fish into a provincially approved waterbody.
In January, the school received a batch of eyed rainbow trout eggs that were then reared through the alevin and fry stages of development. Students from all classes got to experience learning about the rainbow trout life cycle and observe stages of the life cycle that are not regularly seen. Once the fry were large enough, they were released into Miller's Lake as part of the yearly stocking program that occurs there.
The fish release team was joined by Ryan Cox, a local Fisheries biologist, who taught the students about aquatic insects and what the rainbow trout would be eating in the wild.