Go back
GNS: Monsma Family Scholarships
Posted on: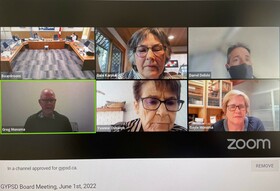 Greg and Gayle Monsma shared the news with the Board of Trustees at the June 1, 2022, Public Board Meeting, that the Monsma Family Foundation had recently increased their funding to support the George Monsma Scholarships from $100 to $500 each.
George Monsma was a Division trustee from the Peers/Rural Edson subdivision who served the Board from 1960 to his death in 1974, including several terms as Board Chair. The George Monsma Scholarships are awarded annually to a graduating student from each GYPSD high school who best exemplifies those qualities of global citizenship that Mr. Monsma personified.
The Board and Superintendent Lewis expressed their sincere appreciation to the Monsma Family for their continued generosity in supporting students with their public education pursuits in recognition of their grandfather's legacy.