Go back
BEST Supports Students with Summer Activities
Posted on: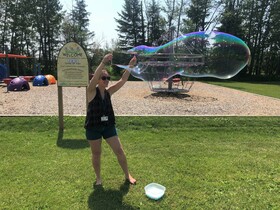 The Bringing Empowered Students Together (BEST) Team hosted another successful summer of virtual and in-person programs to keep GYPSD students connected and focused on healthy habits through the months of July and August. 
Children had a wide range of activities and programs to choose from, including: Mindful Drawing, Grooving with Growth Mindset (Hula hooping), Wellness Book Nook, Girls F.I.T, Cookie Art Wellness Workshop, DancePl3y, Photography camp, Family Hula Hoop Luau, Grab and Go or Stay and Build Wellness crafts, Park and Plays, Family Board games in the park, Mindful Mondays, and Virtual Wellness Challenges.
BEST also had the opportunity to partner with local organizations to offer programming to their clients and/or co-facilitate programs to offer in the community, including: Niton Library, Evansburg Library, Edson Library, Grande Cache Library, Edson Youth Interagency, FCSS, Youth Connections, Edson Out of School Care and the Town of Edson.
Feedback from participants and partners was great! 
"We're so happy we were able to partner with you on this park and play." Evansburg Library

"It's so amazing the activities you have brought to our small little community this summer! We really appreciate it."  Wildwood parent

"Thanks so much for the fun activity bags; my child loved making it." Jasper parent