Go back
GNS: FRIM PD for GYPSD Teachers
Posted on: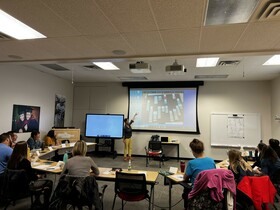 GYPSD K-7 French Immersion teachers joined Myriam Le May for a day focused on French phonetics and learning techniques to assist students in their French language development. 
Myriam Le May is a native French speaker with over twenty-five years of experience teaching French as a first and foreign language from elementary school to university levels. Myriam completed her Bachelor's and Master's degrees in French Linguistics, as well as an Education degree. Before settling in Vancouver, she taught in leading schools in Québec, Portugal, and France.
Having studied three foreign languages and overcoming a difficult stuttering problem, Myriam is well aware of the challenges involved in articulating a new language. She is passionate about integrating corrective phonetics as a way to help build confidence in oral competency. It gives her great satisfaction to share her expertise with teachers who will be able, in turn, to help their own students better pronounce  French. Myriam has been delivering workshops on Corrective Phonetics to French teachers across Canada, including those teaching in Core French, French Immersion, and Programme Cadre. 
Merci pour cette belle journée Myriam !