Go back
GNS: Learning for the Board's Newest Priority
Posted on: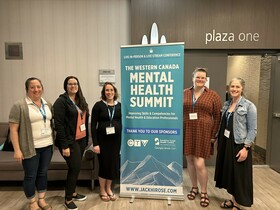 Members from GYPSD's Learning Services team attended the Western Canada Mental Health Summitin Calgary May 24-26, 2023.
Erin Bezzola B.E.S.T Program Manager - Bringing Empowered Students Together/
Mental Health Capacity Building In School Initiative, Karen Riggs and Lisa Beckstead  (BEST Success Coaches), Tara Burdock (Family School Liaison Counselor) and Crystal Virtanen, the Division Psychologist took part in the three day conference.
The summit included over 30 sessions focused on effective intervention strategies, recent advances, and specific topics to improve the skills and competencies of mental health and education professionals.
Although the highlights were different for each member of the team, everyone agreed that having access to specialists in their field who could provide tangible strategies to support their school communities was the biggest takeaway.
The conference provided a valuable opportunity to also learn what is new and emerging in the field including resources and available supports.
The team has plans to share their learning with the rest of the counseling team members at a future professional development day in the fall.
GYPSD provides a comprehensive 'pyramid of supports' for students across the division.