Go back
GNS Learning Leaders, Leading Learning
Posted on: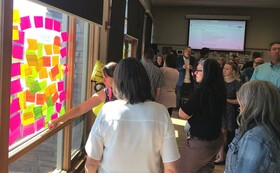 The end of August was a busy time for GYPSD staff as they got ready to launch another successful school year. Along with startup meetings at the school and division levels, various professional development sessions were offered to ensure that staff was ready with the most current information to prepare for school opening on September 6, 2022.
The District Leadership Team meeting focused on building leadership capacity, the principal's role as instructional leader to improve student learning and whole-school coaching processes.
GYPSD welcomed a large group to the annual New Teacher Orientation program on August 29th, designed for teachers who are either new to the profession or new to the Division. 
On August 31, 2022, the Division's official Kick-Off event hosted all staff across the Division in a hybrid day of in-person learning, virtual PD sessions, and two sensational keynote speakers, David Irvine and Connie Jakob. Along with many external presenters, the Division was proud to have a number of GYPSD staff present their expertise to their peers through virtual PD sessions. Over 60 bus drivers and transportation staff took part in the day which also included finalizing routes and receiving updates on current transportation regulations and responsibilities.