Go back
GNS - School Visioning Workshop
Posted on: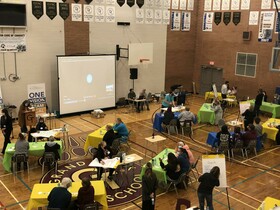 On March 10, 2021, the province announced that Grande Yellowhead Public School Division's number one priority on the Three-Year Capital Plan was approved for design funding to support the consolidation of three schools - Grand Trunk High School (GTHS), Evansview School in Evansburg, and Wildwood School in Wildwood - into one K – 12 school with a 500-student capacity at the current Grand Trunk High School site in Evansburg. GYPSD is working with Alberta Education and Alberta Infrastructure over the next few months to determine the full scope of the project, including the facility's design and funding to ensure that it meets the future learning needs of the communities of Wildwood and Evansburg.
On September 16, 2021, a School Visioning Workshop was a first step in the design process for the modernized K – 12 school. The staff, students and families from the communities of Wildwood and Evansburg came together at GTHS to hear from Alberta Infrastructure on the modernization process and parameters of the project. They also heard from Board Chair Brenda Rosadiuk who shared the Board's support for the community's goal of fundraising for a second gym, as provincial funding does not include a second gym in the budget.
Attendees were invited to identify their questions around the integration of younger students once the build is done and how current students at GTHS will be impacted during the construction phases over the next few years. Next, facilitators walked attendees through a series of questions focused on capturing everyone's 'dreams' for the modernized facility, including new spaces for teaching and learning, for collaboration, for common areas, spaces for new and exciting programs, and how the school could be used in the community during non-school hours. The evening provided a rich space for input, clarity on what is and is not viable within the government's framework for school capital projects, and the Lobstick community's plan for fundraising. Information about the project is available on the GYPSD's main webpage including a link to a survey for those unable to be present at the workshop on the 16th.
Anyone interested in joining the fundraising committee is invited to attend a meeting tomorrow, Tuesday, September 21st, at 4 pm, at Grand Trunk High School.