Go back
GNS: Top Provincial Archer at PCHS
Posted on: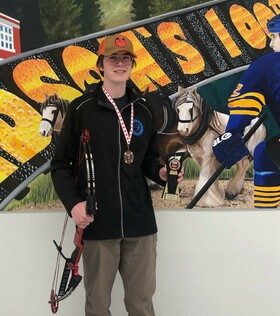 The Parkland Composite High School Pacers Archery team travelled to Edmonton to compete in the Provincial Archery Tournament. Russell Butts, a Grade 12 Parkland student emerged victorious with a score of 289/300. As a result, Russell is the Top Male Archer in Alberta. For this achievement, Russell received provincial recognition along with the Champion Bow.
Russell has been involved in archery for the past five years and has been on the Pacers Archery team for the last four years. Through archery, Russell has developed a strong work ethic and exhibits a calm and patient demeanor that allows him to be successful in many different areas in and out of school. He works extremely hard in his favourite subject, Trades and Technology, because he likes to build and fix things. He plays bass in a band, The October Revolution. Outside of school, Russell enjoys hunting and fishing, and he plans to pursue a career in the trades after he graduates. Russell says, "It was a fun time and I'd like to thank my coaches and my team for all they've done".
We are so proud of you, Russell, for the outstanding job you have done representing PCHS and GYPSD.