Go back
GNS: Division Wide Focus on Orange Shirt Day and TRC Week
Posted on: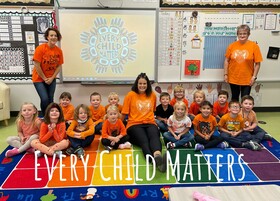 Students and staff in GYPSD spent the week of September 27 to October 1 preparing for Orange Shirt Day and the National Day for Truth and Reconciliation held on September 30th.  Across the Division, students learned about Indigenous histories and cultures through lessons, guests, and activities: 
Many teachers across the Division utilized Etienna Moostoos-Lafferty's resource, "Ten Days of Truth THEN Reconciliation."

Resources were provided from the Alberta Regional Learning Consortium including
○ Opening Prayer and Smudging Ceremony from Elder Wilson Bearhead
○ Opening Teaching from Elder Wilson Bearhead
○ Virtual Tours and Traditional Teachings from Indigenous sacred spaces located Alberta
○ Language Education
○ Closing Circle Guide

Videos were shown featuring Murray Sinclair from the Truth & Reconciliation Commission, Phyllis Webstad, author of The Orange Shirt Story and Truth & Reconciliation Commission member, and Ekti (Margaret) Cardinal's story, a personal account of an Alberta Residential
School Survivor.

At one school, every student wrote the names of all children on the Alberta Indian Residential School registry onto paper handprints arranged in the shape of a heart.

Some Indigenous students and staff dressed in traditional clothing and shared their stories, music,  drumming and dancing. Indigenous games were played and enjoyed, many of them outdoors. In some schools, bannock with homemade jams was shared (covid safe protocols were followed), and some staff were able to liaise with Elders and Knowledge Keepers via Google Meet or Zoom, where participants listened to firsthand stories and were able to ask questions.

A video was created by students and staff of one school entitled "If These Walls Could Talk," which compares school today with what a Residential School might have been like.

Many teachers discussed the Truth and Reconciliation Commissions'' Calls to Action. The younger
grades used "Spirit Bear's Guide to the Calls to Action," while older students referred to the "Truth and Reconciliation Commission of Canada: Calls to Action."
We encourage you to visit your local school's Facebook page and websites to learn more and see other photographs from the week's learning events and heartfelt activities.
GNS: Division Wide Focus on Orange Shirt Day