Go back
GNS: Tech Pilot Program
Posted on: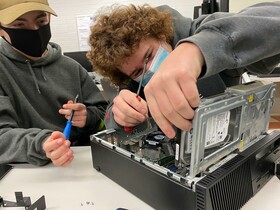 Students taking part in Grand Trunk High School's new IT Specialist Pilot Program took some time to flex their Minecraft and Python coding muscles. In December, the Cobblestone Collective organized their Hour of Coding, a series of tutorials and challenges showing students how to use Python computer code to apply game modifications to Minecraft.
This change of pace was a welcome break for these students. They have now started their CompTIA A+ training process, a multi-month course that will earn them a worldwide industry-recognized certification in IT and Computer Network management.
GYPSD's IT Department is supporting these students with specialized equipment such as a rack server and a network switch so they can put their IT knowledge and skills to practical use.
Students will learn how to set up, modify, and optimize small wired and WiFi networks using this hardware through a series of practical labs and workshops that  offer hands-on training for these students.