Go back
GNS: Helping Those in Need
Posted on: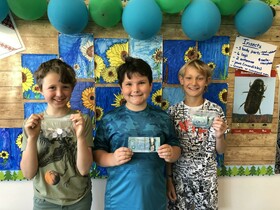 GYPSD students show compassion, community, and character through service to others. 
Recognition goes out to the staff and students in GYPSD for being excellent global ambassadors for a number of different reasons. For example, students and staff at École Jasper Elementary School collected food and pantry items and donated $325 worth of grocery store gift cards to help new Ukrainian families and individuals get started in their new homes here in Jasper.
Some of the students fundraised on their own through lemonade stands and bracelet sales to raise money for this initiative.
In Grande Cache, Grade 3 students at Sheldon Coates studied Ukraine as well as global citizenship. They made oil pastel drawings of the sunflower, which is Ukraine's national flower and then sold them in an online auction to their parents and school staff. They were able to raise $500 which they donated to the Emergency Crisis Fund for Ukraine through Save the Children Canada.
GNS: Helping Those in Need